Heat Staking - Know How 1
The plastic domes fed through the circuit board are formed into a rivet by the die, so that the circuit board is fixed in the plastic part.
Thermoplastic materials such as PA, PP, PBT, POM, PC and PE (also with glass fibre content) are caulked.
The heat required for the process is introduced into the plastic via pulse-heated dies.
Under the action of the necessary application force, the components are positively and firmly bonded.
The die(s) are moved to the product via a pneumatic shaft and the necessary process force is generated via spring elements.
According to the application, the heating of the die takes place before or during the contact with the product.
On completion of the fusing process, the die is lifted from the fusing point. Depending on the plastic used, the die can also be cooled before it is lifted.
All relevant process parameters, such as temperature, force and sealing path, are electronically measured by the control system and monitored in adjustable control windows.
Deviations from programmed parameters are reliably identified and indicated. The data can be stored for documentation and archiving.
Dies are not subject to contamination and can be coated to withstand mechanical wear, especially for applications using glass-fibre-filled plastics.
Warm- or hot-caulking systems are used as individual work stations or as "srand-alone systems" with integral control as well as in automated production lines or turntable systems with offset control.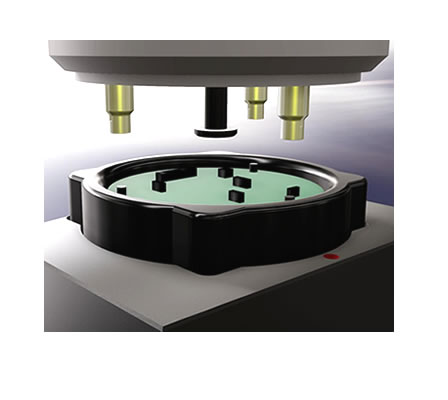 Product Images